I'm delighted to announce that, upon request, Tagsmart Certificates of Authenticity are available for all artworks, an unique and secure document of ownership.
It will be dispatched separately from the artwork but should arrive around the same time. Please allow up to 28 days from the day of purchase. One may receive emails from Tagsmart inviting to access additional information about the artwork, including notes on provenance, ownership, condition and more.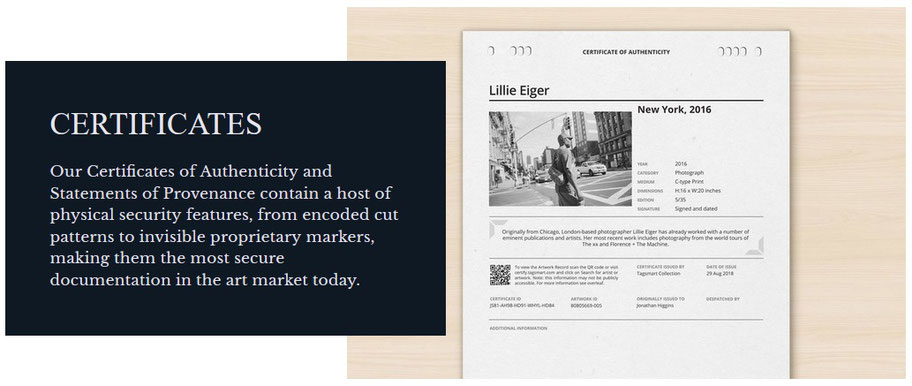 1) Every Certificate links to an online artwork Provenance Record. To view this visit certify.tagsmart.com and enter the artwork ID in the search box. Alternatively, one can scan the QR code with a smartphone using a QR code reader. Please note that the digital record may have been made private by the artwork owner.
2) Each Tagsmart Certificate shows detailed artwork information and it is signed by the artist.
3) The holographic-bordered tape peels off to reveal a unique 6-digit code. Doing so voids the Certificate and should only be removed if instructed to do so by Tagsmart.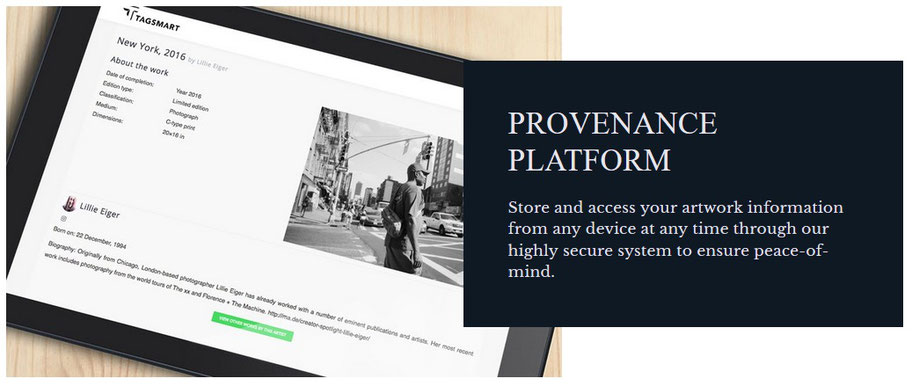 Additionally, DNA tags are available. A DNA tag is a discreet and highly secure label that can be applied directly to artworks. It is made up of archival materials developed in collaboration with leading artists, surface chemists and conservators.
Every tag contains a web of security components that create an individual profile for each artwork. Tagsmart tagging technologies include synthetic DNA and other compounds, all linked via a unique ID to a Certificate of Authenticity and a digital provenance record.